Bitcoin's notorious weekend volatility is paying dividends Tuesday for investors in the largest cryptocurrency, which is outperforming U.S. equities for a change amid the uncertainty surrounding the turmoil in Ukraine.
The digital token has remained in the green through most of Tuesday after slumping through the three-day U.S. holiday weekend. By comparison, the Nasdaq 100 Index has extended losses from last week after trading resumed following the Presidents Day holiday.
Bitcoin rose as much as 3.4% to $38,319, while the Nasdaq 100 was down as much as 1.2%.
"You tend to see overreactions that happen on weekends and holidays, and for a couple of hours overnight," said Ed Hindi, chief investment officer and co-founder of Tyr Capital.
Bitcoin's relationship with global markets had been strengthening despite it being long touted by advocates as an uncorrelated hedge against turmoil. The cryptocurrency has been mimicking movements in equities, most notably the technology benchmark Nasdaq 100 index.
The correlation between the two rose was recently at 0.43, with a coefficient of 1 indicates asset classes move in lockstep. 
Greg Waisman, co-founder of global payment network Mercuryo, said $40,000 is a key resistance level for Bitcoin in the short-term.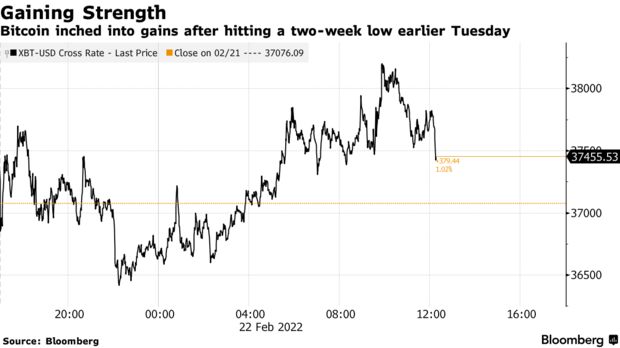 "The old adage of 'turnaround Tuesday' looks to be ringing true again as Bitcoin gains today," said Justin McQueen, a strategist at DailyFX, by email. "Of course, an extension of this move higher is dependent on the situation between Russia and Ukraine and as we have seen, sentiment can change on a whim from one headline to the next."
Read full story on Bloomberg