As per a research report from Arcane Research, Georgia has a notable presence of Bitcoin miners in the country. In a country of 3.9 million people, a sizable part of the population is devoted to crypto mining, leading to the State becoming an up and coming hub of mining.
Although the Cambridge Bitcoin Electricity Consumption Index (CBECI) states that Georgia produces just around 0.18% of Bitcoin's total Hash Rate, Arcane suggested that the actual figure might be a lot bigger than what's said.
This was because CBECI only documented four pools, which altogether only accounted for 34% of the total Bitcoin Hash Rate.
Further research from the company indicated that Georgia is contributing close to 0.71% of the total Hash Rate based on Georgia's total crypto mining capacity as stated by the miners.
Secondly, the Peach State is also home to one of the biggest Bitcoin mining companies, Bitfury, for more than five years now.
Georgia is also reported to have over 200,000 of its citizens involved in cryptocurrency mining extending to Ethereum and Litecoin.
However, the rising price of electricity in the State might eventually scare miners away from mining in the State.
Although the State produces nearly 76% of all its electricity through hydro powerplants, it is yet to unlock over 75% of its actual potential for electricity generation using natural resources.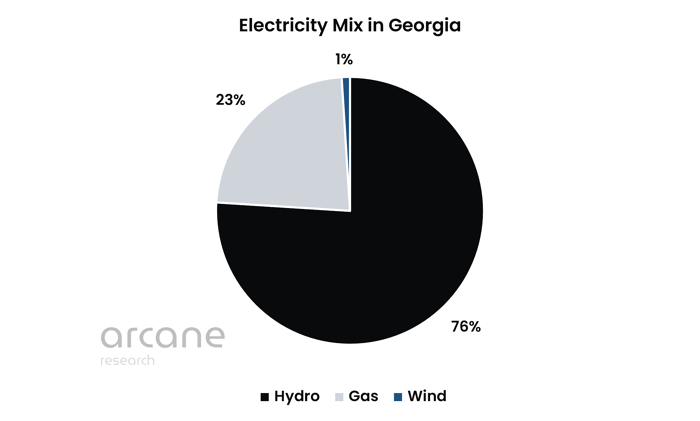 Furthermore, the lack of new generation capacity has made it incapable of fulfilling the rising electricity demand.
According to the report in the last five years, the rate of electricity generation to its consumption has significantly come down.
At its peak in 2020, over 12.6 Tw/h of electricity was consumed while only 11.2 Tw/h of power was produced.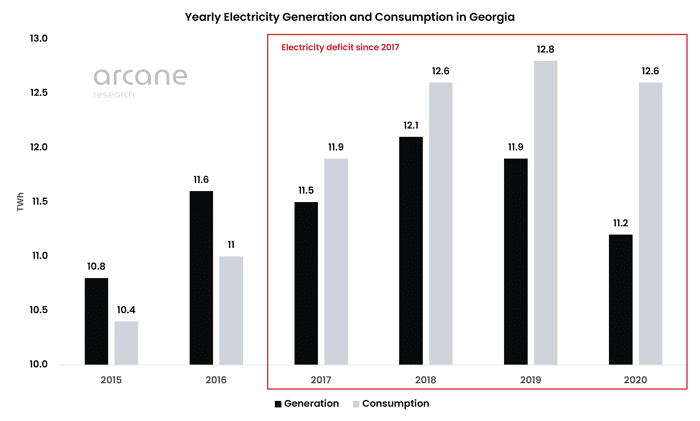 In fact, as per the CBECI United States is currently the highest contributor to Bitcoin's total hash rate globally, responsible for 35.4% of the 207 Eh/s.
But lack of electricity is one of the biggest concerns for any miner since the lack of adequate power may not provide them with the profits they expect as they'll have to pay more for electricity.
The other way to deal with this is to build more hydropower plants, but the citizens stand against it, citing land ownerships.
Georgia – A Tax Haven
For Bitcoin miners, Georgia has been called a tax haven by Arcane, thanks to the no mining tax for individual miners.
Corporate miners have to pay 15% IT tax and 18% VAT. But the lack of regulations in the country about cryptocurrencies certainly will attract more miners
Although the country doesn't have any active regulation, it is looking into gaining a solid foothold as both regulators and developers.
As reported earlier by FXEmpire, the Biden administration could soon be coming out with an Executive order for crypto regarding the country's own CBDCs and other aspects of crypto such as financial stability and environmental impact.
Read full story on FX Empire