Gold hit its highest level in more than a year after Russia ordered troops into Ukraine, intensifying the crisis in Eastern Europe and letting bullion play its traditional role as a harbor amid geopolitical upheaval.
"Big flight to safety happening in markets right now and the only true safe haven appears to be gold, with crypto markets tumbling," said John Feeney, business development manager at Sydney-based bullion dealer Guardian Gold Australia.
Vladimir Putin said he's ordered a special military operation to protect the people of the Donbas region, and that Russia will "aim for demilitarization and denazification of Ukraine". Ukraine's Foreign Minister Dmytro Kuleba tweeted that the country's larger neighbor had "launched a full-scale invasion of Ukraine" and that its cities were under attack.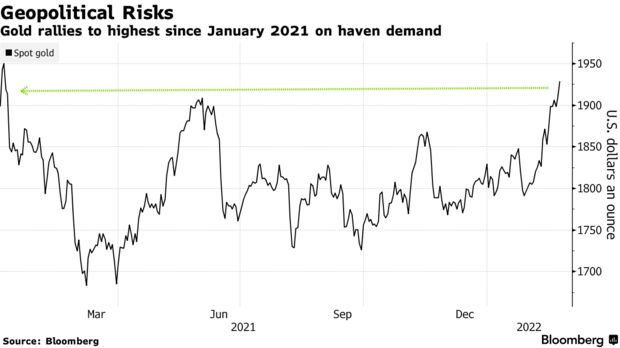 Bullion has risen in recent weeks as Moscow's stand-off with the West intensified, helping to offset other headwinds — especially monetary tightening by the U.S. Federal Reserve. The precious metal is historically seen as a hedge against major economic and geopolitical ructions.
Spot gold jumped as much as 2.1% to $1,949.03 an ounce, the highest level since January 2021, and traded at $1,939.55 at 1:08 p.m. in Singapore. The Bloomberg Dollar Spot Index rose 0.3%. Silver, palladium and platinum all advanced.
At Risk
There were sharp moves also in industrial metals, with nickel surging as much as 3.2% to a fresh decade-high while aluminum gained 2.1% to near a record. The concern is that a deepening crisis will end up disrupting supplies at a time of low global inventories.
Russia's exports are equivalent to 5.3% of global nickel production, and about 4.2% for aluminum.
U.S. President Joe Biden announced he would impose "further consequences" on Russia after what he called an "unprovoked and unjustified attack" on Ukraine.
Top Russian aluminum maker United Co. Rusal International PJSC fell as much as 8.7% in Hong Kong. The group was a target of an earlier round of U.S. sanctions leveled against Russian entities in 2018.
— With assistance by Winnie Zhu. Read full story on Bloomberg