The red-hot rally in meme-coin darling Shiba Inu is losing some of its steam. The token had posted a double-digit gain after crypto-exchange Kraken listed it for trading and e-retailer Newegg Commerce announced it will accept the digital asset as a form of payment.
But on Wednesday, the token fell more than 4%, according to data from CoinGecko.com. 
Many were struck by the tepid move. Earlier in the year, announcements large and small tended to move prices almost straight up. But they're now getting affected by the Federal Reserve's announcement that it might start to pull back on its stimulus, according to Matt Maley, chief market strategist for Miller Tabak + Co.
"If this announcement had been made a month ago, when the Fed was still seen as very accommodative, the reaction would have been much more positive," he said.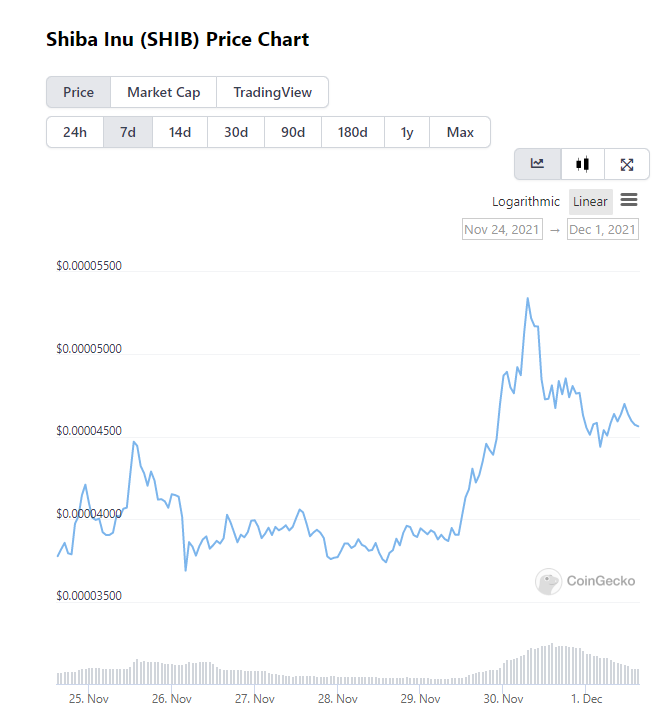 A portion of the success notched by many cryptocurrencies over the past 20 months can be attributed to massive amounts of liquidity in the system, said Maley. With the U.S. central bank's Chairman Jerome Powell saying this week that the Fed may soon increase the pace of its so-called taper, "that liquidity is going to be less plentiful," he said. "Therefore, this news has not been as big."
Shiba Inu burst on the scene earlier this year amid growing clamor from Robinhood Markets users for it to be listed on the popular platform. Coinbase Global Inc., the largest crypto exchange in the U.S., has also allowed users to trade the token.
But trading in SHIB, as with many in the crypto space, has been extremely volatile. Some Twitter proclamations from Elon Musk have sent prices swinging — SHIB in October fell at one point after the Tesla Inc. CEO said that he didn't own any. The coin is down roughly 45% since reaching a high in October, according to CoinGecko.com.
Still, with a market value of around $25 billion, the SHIB token is currently among the largest cryptocurrencies, according to data from CoinGecko.com. That places its value in the same space as that of S&P 500 member Southwest Airlines Co., for instance.
"While certainly SHIB, at a 25B market cap is unlikely to be accused of being 'undervalued,' as good a reason as any for its underperformance in the short term is likely due to, 'sell-the-news' flows following its recent addition to some major exchanges like Coinbase," said Stephane Ouellette, chief executive and co-founder of crypto platform FRNT Financial Inc.
Meanwhile, the price of Bitcoin — the largest digital asset — fluctuated in Wednesday's session to trade around $57,000. 
-Read original story on Bloomberg