One of the buzziest metaverses today is Decentraland. Visitors enter the virtual space through a web browser, choose an avatar, and are transported to a vibrant digital hub where they can tour a replica of Sotheby's London art gallery, attend a virtual Paris Hilton concert, or visit a JPMorgan Chase & Co. lounge featuring a portrait of Jamie Dimon.
As it turns out, though, the place people most frequently visit in Decentraland is the casino. Inside, hundreds of people dressed in streetwear and sunglasses sit around (or hover above) poker tables, all rendered in graphics that would have looked cutting-edge two decades ago on the PlayStation 2.
Every few seconds, the cha-ching of a cash register and a burst of hand-clap emojis signal someone has won. To play, guests must buy (or borrow) a piece of virtual swag sold by the casino—a hat, sunglasses, shirt, cigar—that can later be sold for cryptocurrency.
The poker chips can be used to upgrade the items and boost their value. The four poker rooms in Decentraland frequently host about half of the people in its metaverse at any given time.
Gambling has served as an accelerant for many technologies over the years, and the metaverse may be no different. However, resting a business on gambling—or anything that looks like it—comes with a lot of risks. U.S. regulators have recently signaled that online betting and cryptocurrencies are two of their top priorities.
In Decentraland, the poker parlors, known as ICE Poker, are run by a company called Decentral Games, which doesn't possess a gambling license in the U.S. and argues it doesn't need one. Gamers aren't directly cashing out chips for money after they play, says Ryan De Taboada, the company's chief operating officer.
Yet experts say the system exists in a gray area. "Any contest or prize predicated on 'buying in' constitutes gambling," says Jeff Ifrah, an attorney who specializes in gambling law. "If you have to buy in to participate in a contest, even if the chips are free, the purchase of a prerequisite to play is a problem."
Decentraland is a fusion of the two most sought-after themes for technology investors: the metaverse and Web3. People buy and sell the app's custom currency, MANA, which has a market value of $4.7 billion.
Some 600,000 people use the app each month, according to its creative director. Decentraland has captured headlines for hosting a DJ performance by Deadmau5 and for persuading Barbados officials to construct a virtual embassy there, but at the heart of the metaverse's economy are its betting parlors.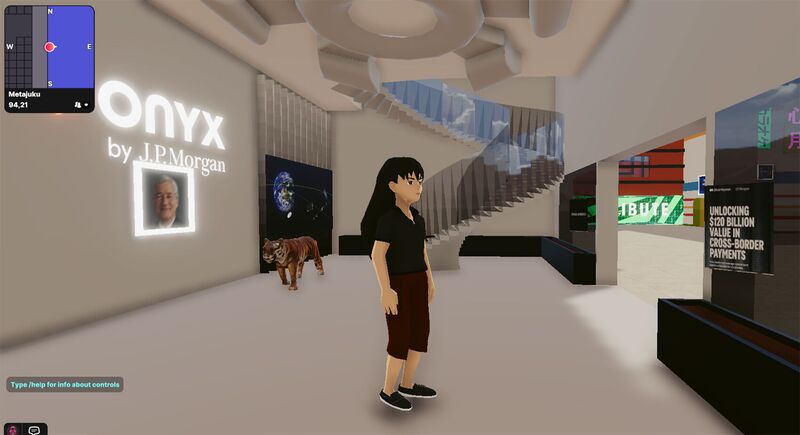 The partnership between gambling and new technologies goes back decades. Bally's Video Poker machines were already big in Las Vegas by 1981, when the first personal computers hit stores. Microsoft Corp. introduced Internet Explorer in 1995, and over the next couple of years, 15 online casinos ballooned into 200, generating about $1 billion in revenue for the new online gambling moguls.
The original source code for Bitcoin contained references to a virtual poker game that was never released. Crypto faithful soon fulfilled the creator's vision. One of the early applications for Bitcoin's chief rival, Ethereum, was a wagering system called Augur.
Proponents of the metaverse haven't articulated many compelling uses for it, and the number of people using the versions that do exist are tiny compared to the audiences for many popular video games. Yet expectations are astronomical.
Facebook's parent company, Meta Platforms Inc., sank $10 billion into its metaverse products last year, and JPMorgan estimates the market will someday reach sales of $1 trillion a year. Financial speculators spent more than $500 million last year to acquire virtual real estate in Decentraland and three other metaverses, according to research firm MetaMetric Solutions.
"The main problem with the metaverse now, even at the outset of ICE Poker, is the fact that it's empty," says Decentral Games founder Miles Anthony. "So we're trying to populate the metaverse, basically, with this, and it seems to have worked so far."
Also among the so-called Big Four metaverses, one app called Sandbox bars any activity "a lawyer could qualify as gambling," says co-founder Sebastien Borget. That hasn't stopped Martin Schwarzberger, who says he's building the Sand Vegas Casino Club in Sandbox (no relation to the Las Vegas Sands).
Decentraland only permits gambling for those who live in a real-world location where it's legal, according to the app's terms of service.
The top poker rooms in Decentraland, with names like Chateau Satoshi and the Stronghold, don't even bother with that formality. Anyone can play as long as their character possesses the digital swag known as ICE wearables.
Decentral Games sells them on its website for about $5,000 apiece. Each one is a nonfungible token, meaning it's unique and can be resold on marketplaces such as OpenSea. Owners can also lend them out, often taking a cut of the borrower's winnings.
Alex Theriot, a 25-year-old schoolteacher, started trying her luck in Decentraland's poker parlors in December after discovering the app with her boyfriend. "The idea of playing games to earn a living really intrigued us," Theriot says. "Once we saw what ICE Poker was doing for people financially, we had to get involved."
Theriot found a member willing to loan her an NFT to enter, and she agreed to share a third of her spoils. Inside Decentraland, her avatar sports a pink ombré hairstyle inspired by the Japanese anime Sailor Moon. She stands at a poker table staffed by an attendant dressed as Pepe the Frog, the internet meme beloved by online trolls.
Theriot kept playing until she could afford her own NFT, a set of breeches styled after ones worn by Thomas Jefferson. She bought them for $4,500. She says she now has five NFTs associated with Decentraland and loans them out to newbies for a source of passive income.
"We have lost nothing and gained almost $28,000 in profitable assets," Theriot says. "Some might say we have gained nothing since we haven't cashed out any profits yet."
Until January, Decentral Games also let people wager cryptocurrency on blackjack and roulette, which, De Taboada acknowledges, constituted gambling. The company now only lets players wager with chips. ICE Poker, which is significantly more popular, places a few degrees of separation between the poker chips and cash—enough that De Taboada says it's a "play-to-earn" video game and not online gambling.
The chips are distributed to anyone at the tables sporting an NFT, and top players can earn crypto tokens and upgrade their NFTs by beating opponents and completing in-game challenges. Not doing so, or losing, is a missed opportunity to bolster the value of someone's Thomas Jefferson pants, but players are "never negative," De Taboada says. "Everyone is just earning money every day and not putting up money for chips every day."
Decentral Games has paid out the equivalent of $15.4 million to players, De Taboada says. On one day in February, almost 10,000 people played poker in Decentraland, he says. Of those, only about 11% owned the NFT used for entry. The rest borrowed one, likely through an arrangement similar to the one Theriot used to get her start at the tables.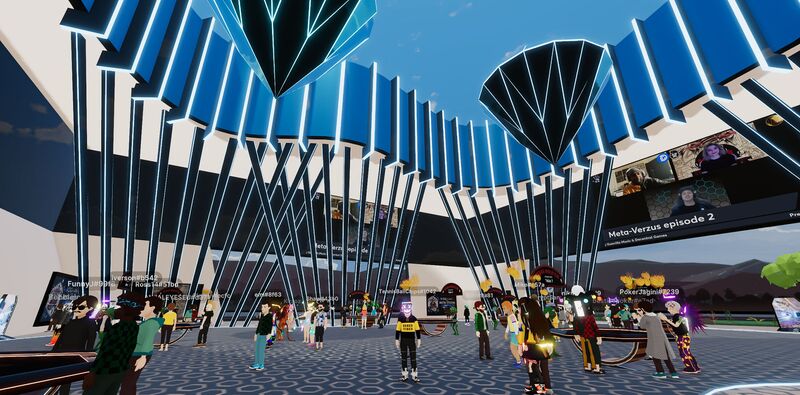 A pair of Argentine coders broke ground on Decentraland in 2015. After years in relative obscurity, the app got caught up in last year's frenzy around the metaverse. Gambling soon followed. Decentral Games has made over $10.6 million in profit, partly from selling $21.7 million in NFT merchandise, the company says.
The Decentraland Foundation, which oversees the metaverse app, says Decentral Games assured the foundation that its licenses are in order.
North America is the second-largest gambling market, even though the practice is restricted in most of the U.S. Sports betting is now legal in a few dozen states. Not only is this dynamic likely to decrease the audience for underground betting, it could place a greater target on such operations.
"The increasing legalization of online gambling in the United States will increase the impetus on the part of regulators to stomp out illegal activity," says Behn Dayanim, a partner at Paul Hastings LLP. "I do expect we'll see attention paid to this."
In a way, crypto poker is a gamble on top of a gamble. The value of Decentral Games' token is down 51% from a high late last year, much worse than Bitcoin's decline over the same period. Still, Theriot says she and her boyfriend are in it for the long run: "We believe in this project, and we are making long-term investments that we hope to see return."
Read full story on Bloomberg