It's been a rollercoaster three months since Torrance-based Unify Federal Credit Union became the first credit union in the U.S. to begin offering its members the ability to trade Bitcoin.
In November, Unify, which holds $3.6 billion in assets, forged a partnership with New York-based Bitcoin trading platform NYDIG to provide its 286,000 members with access to the cryptocurrency.
At the time, it seemed like as good a time as any for Unify to enter the crypto fray: Bitcoin was traded at all-time highs exceeding $60,000 and had a market capitalization of more than $1 trillion.
But no sooner did Unify unveil the new crypto offering than Bitcoin began a precipitous decline in value, plummeting down to near the $35,000 mark at its lowest point in January. (The token now trades at around $40,000.)
Still, that doesn't appear to have fazed Unify members' appetites to get into the crypto game; after maxing out Unify's initial 2,500-person Bitcoin trading waiting list, more than 6,000 of the credit union's members are now using Unify's crypto trading services.
Activity on the platform has slowly ramped up to around 5,500 trades per month, with more than $600,000 worth of Bitcoin transactions to date. With Unify charging a maximum of 2% on each trade no matter the size, it's a whole new source of non-interest income for the credit union.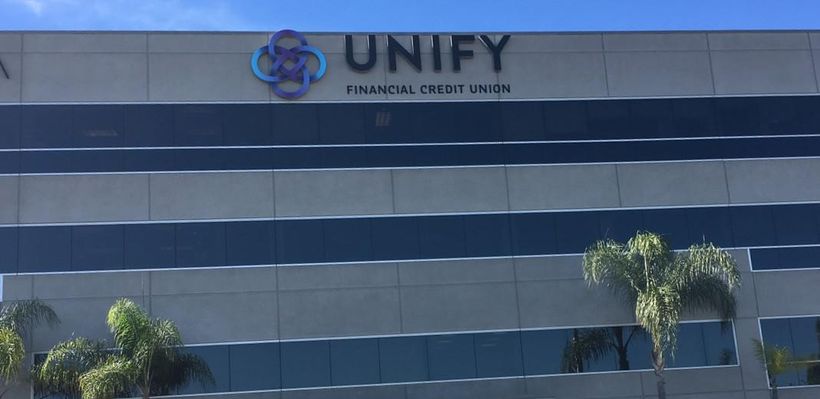 "Two months doesn't necessarily make a trend, but it certainly does appear that our members are very interested in using their primary financial institution as their vehicle for exploring crypto," Greg Glawson, Unify's executive vice president and chief information officer, told dot.LA.
Glawson notes that, if anything, Bitcoin's selloff has only heightened interest among members looking to "buy the dip."
"The interesting thing is, at the beginning when Bitcoin was [trading] very high, there were fewer transactions at higher dollar amounts," he said. "But now, there are more transactions at lower amounts."
Other credit unions are looking to follow the trail blazed by Unify. Idaho Central Credit Union, the largest credit union in its state, also teamed with NYDIG on Bitcoin trading services that launched earlier this month, while more financial institutions nationally are gathering on the sidelines, according to Credit Union National Association (CUNA) spokesperson Lauren Williams.
The volatile world of crypto trading would appear to be uncharacteristic territory for credit unions. As member-owned nonprofit financial institutions, they've long held a reputation as being more stable, conservative and trustworthy than commercial banks.
But as more credit unions move into the space, it's a sign of both crypto's growing mainstream acceptance and the credit union industry's search for new income growth opportunities.
Glawson said Unify's venture into crypto is about "bring[ing] the best offerings to our members" amid rising public interest in digital assets. He added that the credit union has looked to ensure that its members know what they're getting into.
"We want to make sure that member education is at the forefront when entering the cryptocurrency space," he said. "We want to ensure that our membership is aware of what cryptocurrency is, what it isn't and certainly that there is volatility in the area."
The credit union industry as a whole, meanwhile, has argued that its move into digital assets would provide consumers with more protections at a time when federal regulators are increasingly eyeing the crypto sector.
"Our fear is that cryptocurrency and blockchain based financial platforms are creating an unregulated financial sector that could have major repercussions to the U.S. economy," CUNA, which represents more than 5,000 credit unions nationally, wrote in a November letter to Congress' Joint Economic Committee.
It added that "Congress should look for ways to enable credit unions and other financial institutions to provide digital asset-related services, so that these services can be properly overseen by regulators."
Meanwhile, the National Credit Union Administration, the federal regulatory body overseeing the industry, is currently "examining issues related to the benefits, risks, and regulatory treatment of decentralized finance products and cryptocurrencies," according to NCUA spokesman Joseph Adamoli.
"While the NCUA recognizes the potential opportunities these products and technologies offer, we also recognize the potential risks they pose to credit union members, the credit union system and the broader financial services sector," Adamoli said in an email to dot.LA.
In the meantime, Unify and a handful of other credit unions are moving forward with their plans. Unify is now exploring expanding its crypto trading platform beyond just Bitcoin; additionally, it's weighting the possibility of paying out members' dividends in Bitcoin, offering credit card rewards in crypto and permitting members to borrow against their crypto holdings.
"It comes down to Unify's leadership recognizing that cryptocurrency is here to stay and a market force," Glawson said. "We know that it's something our members are highly interested in."
Read full story on dot.LA