Bitcoin's still mired in a drastic drawdown that's taken it well off its recent record highs. But any further drop might have a silver lining.
The world's largest cryptocurrency has been trading below its 200-day moving average for 70 consecutive days, one of the longest such streaks on record, according to Jake Gordon, an analyst at Bespoke Investment Group. And though the coin is still well below that long-term threshold, once it breaks above it, "forward performance from one week to three months out is stronger than average," he said.
Strategists and crypto investors have been debating Bitcoin's sanctuary status amid Russia's invasion of Ukraine, which initially caused prices to surge on speculation that sanctions and a collapsing ruble would drive Russians into the asset class.
Prices have come back down since then, partly over the concern cryptocurrencies could be a vehicle for skirting those sanctions, though many analysts argue that'd be difficult to do. 
Ross Mayfield, investment strategy analyst at Robert W Baird & Co., says Bitcoin's performance last week "was almost like an advertisement for why a totally deregulated currency has value."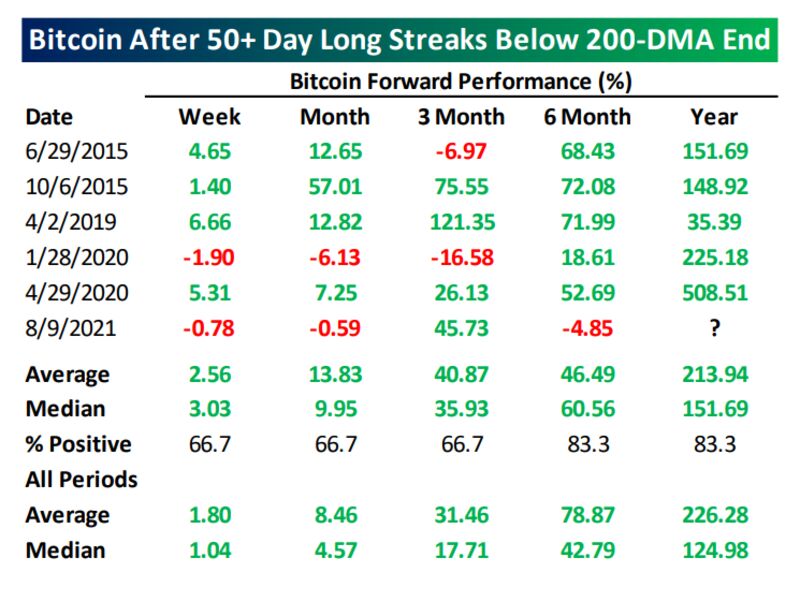 "I do still think it's a risk asset, but if you were a Bitcoin believer and you wanted the perfect use-case or perfect case study of why this makes sense in certain parts of the world or in certain instances, it would be the central banks of the West weaponizing their currencies to sanction the Russian economy," he added. "So it was almost like a pitchbook for something that's totally decentralized."
Bitcoin was born in the wake of the global financial crisis as an alternative currency outside of the traditional monetary system. Since that time, it has been promoted as a means of exchange and a store of value that is detached from governmental control. Those use cases had become secondary as speculation become the primary use case until the war renewed the haven discussion.
Many analysts would consider Bitcoin's potential break above its 200-day moving average — for the first time since January — as a bullish signal. It's currently also trading below its average prices over the last 50 and 100 days.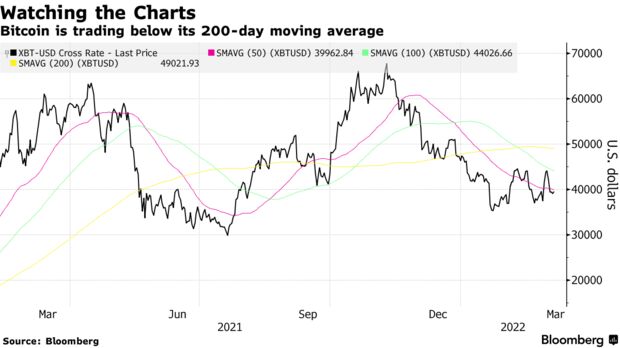 Elsewhere, volatility is rampant, with U.S. stocks down about 10% from a recent high, causing some market-watchers to quip that the crypto markets for once look "boring" compared with other assets.
Not everyone is sold on the haven narrative and many analysts point out cryptocurrencies are still largely moving in tandem with other risk assets, including equities. Bitcoin fell as much as 3.7% at the start of the week to $37,596 before recouping some of those losses.
"I'm not surprised that we saw some of those gains pare back because now crypto is back to being traded as a risky asset and as risk has been pulling back elsewhere, crypto has been pulled back with it," said Anastasia Amoroso, chief investment strategist at iCapital.
The coin is still down roughly 40% from its last all-time high near $69,000. The S&P 500, meanwhile, was down about 2% on Monday, amid worries Russia's war on Ukraine could dent growth prospects worldwide.
"Crypto's been extremely surprising," said Victoria Greene, founding partner and chief investment officer at G Squared Private Wealth. "People are reevaluating what crypto's role in their portfolio is because it certainly is acting more like an equity than a hedge against risk and inflation. Because quite frankly, if it's a hedge against inflation, it should be working better." She added that gold has been holding up better during the recent risk-off move across markets.
Alex Pickard at Research Affiliates wrote in a note that "the idea that cryptocurrencies will disrupt traditional finance is a meme, not a certainty." Pickard, who is vice president of research at the firm, says that though they're innovative, they need to overcome certain hurdles — including powerful entrenched financial institutions — in order to be disruptive, and they haven't done so yet.
"Undoubtedly, the blockchain technology that underpins cryptocurrencies has been innovative—but simply being innovative does not mean it will be disruptive," he wrote. "The idea of cryptocurrencies' disrupting the juggernaut of traditional finance is a meme, not a certainty."
— With assistance by Evan Kane, and Peyton Forte. Read full story on Bloomberg