As Bitcoin's price movement began to mirror that of traditional markets, some likened it to tech stocks. Its recent price action shows otherwise.
Bitcoin's 30-day performance has disproven suggestions that it is "just another tech stock," outperforming the top 6 tech stocks by an average return on investment (ROI) of just under 16% at press time, according to data from Finbold.
As institutional investors moved into the space, it appeared as though Bitcoin's correlation to traditional markets was growing, especially as macro-economic factors were increasingly impacting both.
This data from financial analysis firm Finbold shows that tech stocks might not provide the strongest correlation, however.
"[These figures] don't surprise me," said Jeff Yew, CEO of Monochrome, Australia's first fund to offer institutional-grade exposure to Bitcoin, telling Forkast that tech stocks are the ones that are actually becoming more speculative.
"Bitcoin is not trying to compete on tech, it was proposed to be this alternative digital money — a proposition that a large investor base has taken up quite seriously."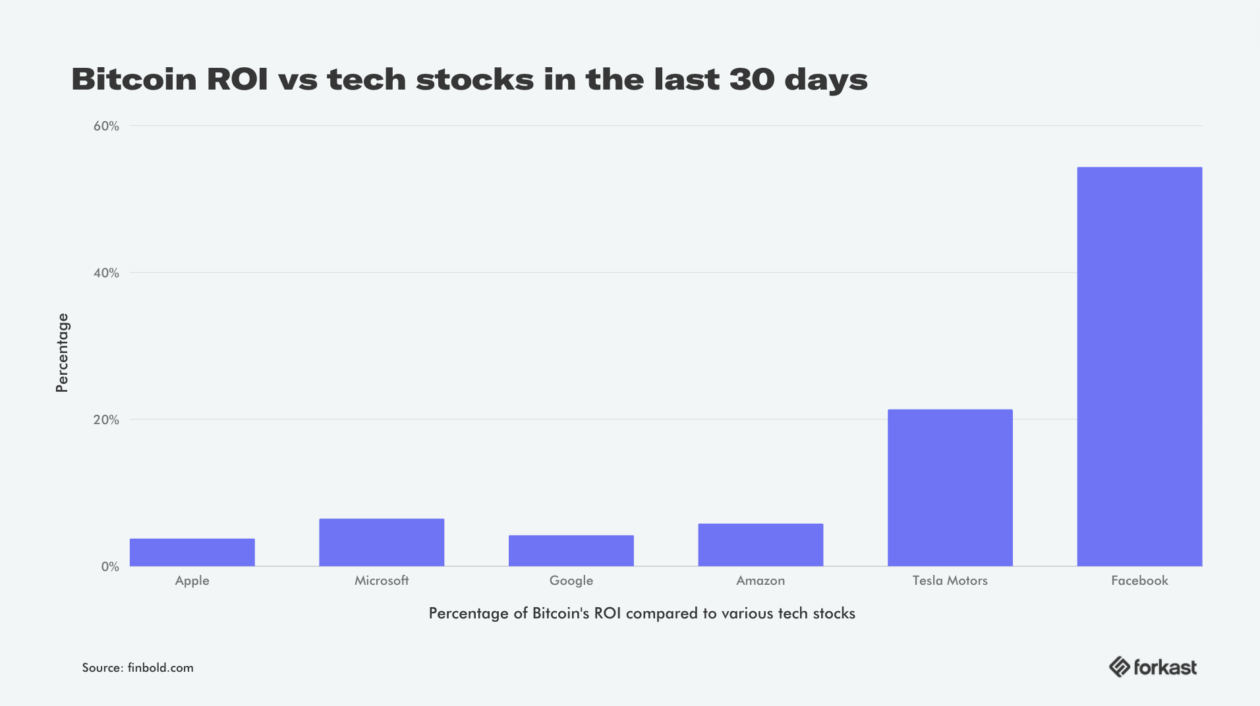 Bitcoin has a current market cap of US$825 billion, down 36% from its all-time high last November, according to CoinMarketCap.
The world's leading cryptocurrency was particularly strong against Meta after its stock plunged more than 25% in a single day following reporting its first-ever quarterly decline in active daily users. Another industry watcher told Forkast immediately after that sell-off some investors moved their funds into treasuries, but also into crypto.
"It really raised some questions about the long-term viability of [Meta's] business model," said Andrew Sullivan, founder and writer for Asianmarketsense.com. "Especially as people look at that advertising revenue, which has become much more crucial for them than people realized."
Conversely, Amazon saw one of its strongest trading days by surging 13.5% on that same day but has since lost some ground, trading at US$3,112 at press time, according to MarketWatch. While this accounts for a roughly 1.5% drop since that time, Bitcoin gained close to 20% over that time to be trading at US$43,574 at press time, according to CoinMarketCap.
Yew acknowledged it is difficult to predict if this would repeat next month or beyond, though he expects the correlation between Bitcoin and traditional markets to continue to increase.
"As traditional investors move into the [crypto] space, they may instinctively take a more traditional investment lens towards Bitcoin, as compared to long-term holders of the nascent asset class," he said, adding: "Many Bitcoin believers are more attached to Bitcoin's protocol integrity than its price."
Many advocates see Bitcoin's value as being an algorithmically controlled currency outside the control of any central bank.
Both industry watchers see a looming interest rate rise in the U.S. as a major factor impacting both traditional and crypto markets. There is speculation the U.S. Federal Reserve could raise interest rates by up to 0.5% at an upcoming meeting in March.
"It would be interesting then to see how Bitcoin and some of the other cryptocurrencies react," Sullivan said. "It will be the first time we've seen them react to rising interest rates because it's not a phenomenon that we've known while Bitcoin has been around."
A rise in interest rates typically leads to investors behaving more conservatively as competition for cash heats up.