My message today is going to be supportive of investing in Dogecoin. But I will do my best to convince the skeptics out there that it's no joke. Investors should not let the "silly" flair stop them from profiting.
My opinion of an asset doesn't usually stop me from pursuing winning investment ideas.
Any discussion of DOGE-USD must also include Bitcoin. BTC-USD is the chief coin in charge and it speaks for the whole cohort. Bitcoin doesn't do much and it's worth $40k.
Therefore, that puts DOGE in good company since it is a novelty coin. Famous art pieces just sit there, yet people pay millions for them. Value only has to exist in people's opinion of an asset.
Like it or not, Crypto coins have delivered better returns than all other classes by a mile. Just in the last 12 months, Dogecoin is up 1,600%. Compare that to gold, which is down 11%. Look back further and the numbers are more shocking. Knowingly shutting the whole sector out makes no sense.
Dogecoin Has a Fight on Its Hands
So, let's now address the immediate opportunity playing out with Dogecoin. The fundamentals for it are simple and not very relevant. It exists, and it has millions of fans who covet it. That brings us to timing entries in order to maximize returns. While I am not hunting a perfect buy spot, I want to hit the ground running. I can't do that if I simply jump in.
Luckily, the charts carry a simple message: Crypto has a huge fight on its hands here. And if support fails there will be a large correction. Therefore, investors should leave some dry powder to pounce below if the bears prevail.
I have had 30% profits from each of my two prior entries under 18 cents. DOGE is now under that level, so I could restart longs here. Then the plan would be to add some after we get more clues about this battle. If the correction comes, investors would do well to average into their full positions.
Follow the Leader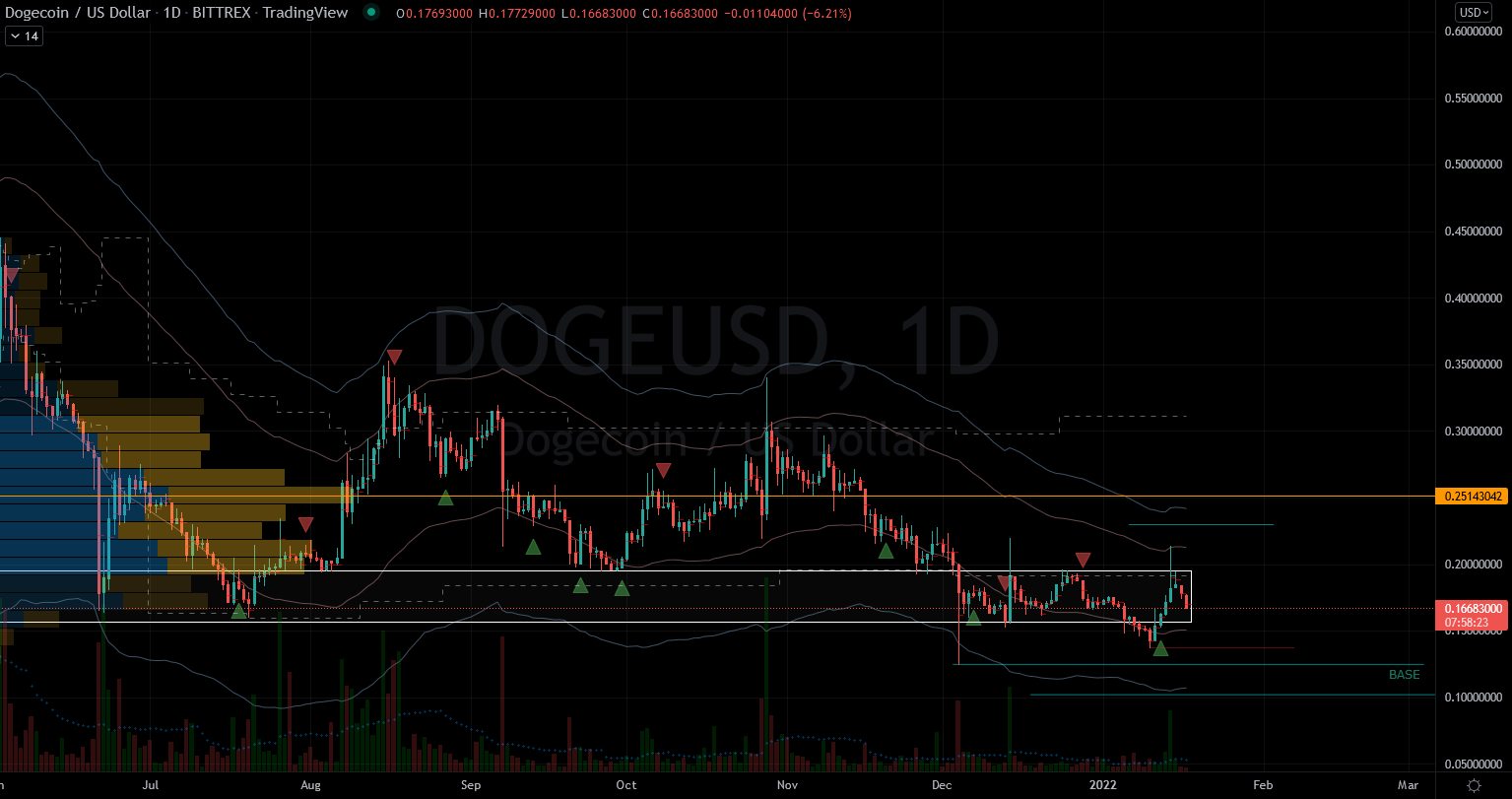 Source: Charts by TradingView
Here are a few clues to help with timing on Dogecoin levels. The crypto coins trade pretty much in unison. That is to say that if Bitcoin is correcting, the group will likely follow. So the discussion next will be about clear levels in BTC-USD.
Of late, the expert rhetoric about it are of technical breakdowns threats. Specifically there is a looming bearish threat from a head and shoulders pattern. I agree with the technical threat from Bitcoin losing $39,500. BTC could lose another 25% to 38% and take DOGE with it. I am not that worried about it, and I am chomping at the bit to pounce if that triggers.
Therefore, my assumption is that DOGE-USD is also fighting to hold support here. And if it takes another tumble in sympathy to BTC, it would find buyers lower. Therefore, investors can have a starter position now while waiting this battle out. Then if the lower opportunity comes they can increase it to average into a full position with confidence.
Crypto Wins in the Long Run
In the long run, Bitcoin prices will continually appreciate much like gold and drag the whole sector along. It will go through bearish stints, but only to give investors better entry points. Some may chuckle at my comparison to gold, so let me address that.
Gold has very few haters, so the pool of potential investors is relatively stagnant. Bitcoin has an ocean of skeptics, so there are millions of potential incremental buyers later. Add to it that supply is finite, then mathematically this pushes BTC higher over time. The laws of supply and demand make this is a matter of fact, not opinion. So it's not a surprise to see Dogecoin mathematically crush investments in gold.
Read full story on Investor Place