Cryptocurrencies continued to pull away from stocks as the intensifying war in Ukraine prompts investors to look for safe havens.
Bitcoin advanced as much as 2% in early trading in Hong Kong before giving up some gains. It has jumped 17% over the past three days — a period during which President Vladimir Putin stepped up shelling of Ukrainian cities and other nations responded with additional sanctions against Russia.
The MSCI AC World Index has fallen for nine of the past 10 days, including the last three.  
"This geopolitical environment is certainly a tailwind for crypto," said Jonathan Cheesman, head of over-the-counter and institutional sales at crypto-derivatives exchange FTX, in a note Tuesday. "This situation highlights the use case for a decentralized, neutral, algorithmic safe haven."
The Bloomberg Galaxy Crypto Index rose 4.5% on Tuesday, the fifth straight day of gains. Ether was up 0.8% at 3:30 p.m. in Hong Kong on Wednesday.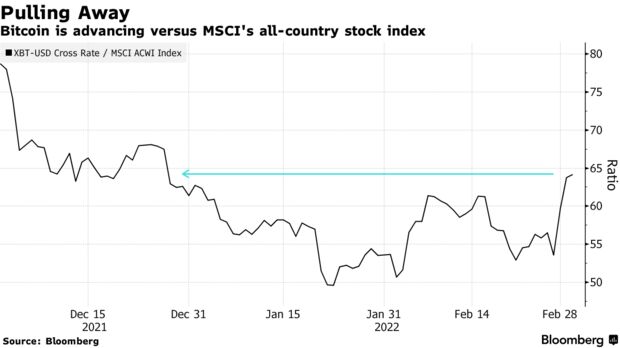 Bitcoin proponents have for years touted its virtues as a hedge against conflict and inflation, citing its borderless nature and fixed supply. That image was dented by a crypto rout that started in November and sent Bitcoin tumbling as much as 52% amid concerns about central bank tightening. Other so-called alt-coins suffered even steeper declines.
But the past few days of broad gains in digital tokens have kindled the notion that, at least, they offer protection from governments that can seize other types of assets, as some have recently vowed to do to Russian oligarcs. 
It's "fascinating that, after a week into geopolitical uncertainty, Bitcoin is outperforming gold, which is known as a safe-haven asset," said Marcus Sotiriou, an analyst at U.K.-based digital asset broker GlobalBlock. Gold slipped 0.2% on Wednesday after rallying since late January.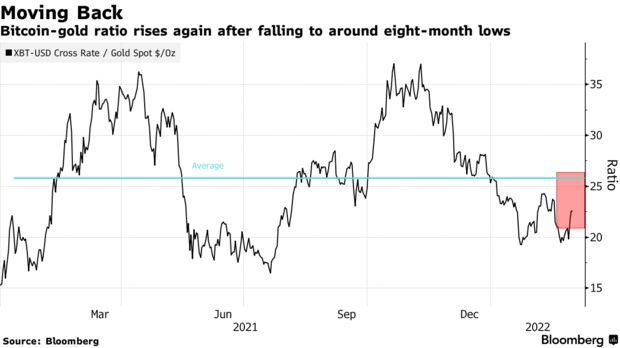 Read full story on Bloomberg