Director Miguel Faus is turning to crypto to finance his debut feature, starring Paula Grimaldo and Emily Mortimer.
Over the last year, crypto has increasingly made inroads into the film industry. Films have been distributed as NFTs, nascent DAOs have formed to help connect filmmakers with sources of funding, and filmmakers are exploring decentralized financing.
Now, a new wave of indie filmmakers is seizing the opportunity to break into the industry using cryptocurrency and NFTs to fund their projects.
"The first few films that get funded this way will have a place in history," writer/director Miguel Faus told Decrypt. "They will be pioneers in a new route that I think is going to be huge for indie filmmaking across the world."
Faus' debut feature film, "Calladita," kicks off its crowdfunding campaign on March 2—offering NFTs as rewards and unique perks for NFT owners who contribute to the raise. Unlike a traditional crowdfunding raise on Kickstarter or Indiegogo, Faus said, "The whole reward system is kind of subverted. The interests of the backers and the creators are much better aligned."
In traditional crowdfunding models, Faus explained, a large chunk of the funds goes toward producing physical products for rewards, such as DVDs, posters, or T-shirts. With NFTs, he argued, not only are the production costs lower, unlike conventional digital rewards, "it's an asset that is robust, and durable—it's always there on the blockchain. And you never know what value it might have in the future."
NFT rewards
Based on his short film of the same name, "Calladita" tells the story of Ana, a young, Colombian domestic worker in a wealthy family's Spanish holiday home. The feature film will star Paula Grimaldo, reprising her role as Ana from the short film, alongside Emily Mortimer of "The Newsroom," and two-time Goya award winner Antonio de la Torre. Jim Cummings, writer-director of "Thunder Road" and "The Beta Test," serves as executive producer.
Alongside traditional crowdfunding rewards such as Associate Producer credits, set visits, and costumes and props, backers of the film will receive NFTs. Those will include stills and videos from the original "Calladita" short film, art inspired by the film, and a unique four-minute short film centered on the character of Ana—which won't be available anywhere else. Just one backer will own the short, "Ana on an August Day."
"It's totally exclusive, and its only purpose is to live as an NFT for the collector, as a one-of-one," said Faus, adding that the owner could choose to submit it to film festivals.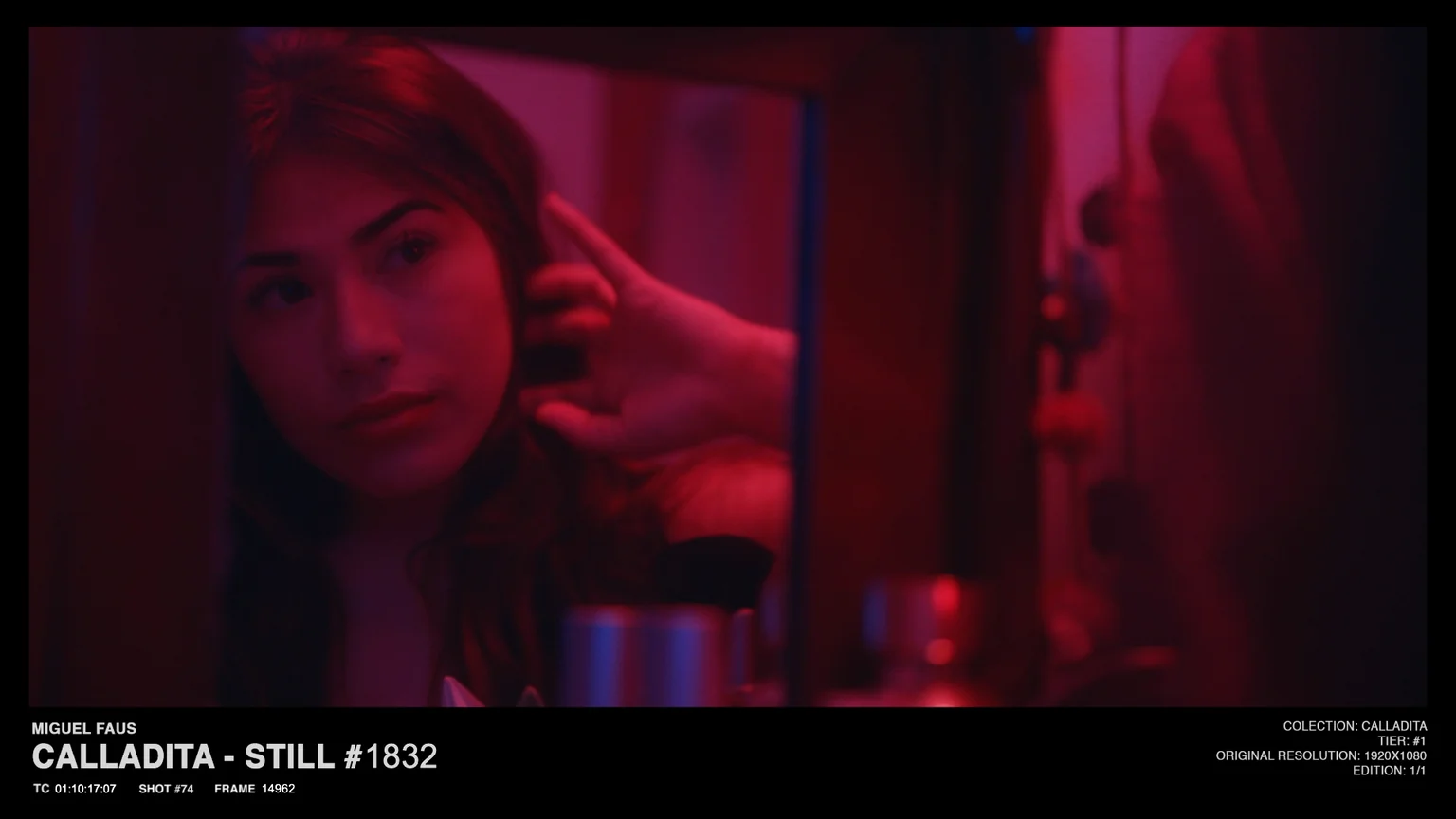 Other perks are available for NFT owners who pitch in. In the film, Emily Mortimer plays an art gallery owner who has a large collection of NFTs, and contributors to the raise can have their own NFTs showcased as part of her collection.
Faus has consciously aimed his campaign at crypto and NFT enthusiasts rather than cineastes who may not have experimented with cryptocurrency. "I decided that I was going to focus 95% of my energy on that target," he told Decrypt, noting that it's still "difficult to try to onboard someone who has never had crypto into buying their first NFT."
"I decided not to focus too much of my energy on that and instead focus my energy on the NFT crowd—which is different than the crypto crowd, in my opinion," Faus said. "There are a ton of film buffs in the NFT space—and also people who are excited by something new. Even if they're not particularly cinephiles, they are excited to see a new use-case for NFTs."
Ultimately, he said: "Everything in the film industry can be disrupted by this technology, and will be. The Netflix killer is going to be Web3 native." He pointed to the paradigm shift that accompanies digital ownership—because you can trace the creator of the work and its owner, "they can relate to the audience in a way that is a lot cleaner, and empowers both the creator and the audience."
At the same time, he added, "glorified intermediaries" like Netflix and Spotify face disruption from a new wave of Web3 film platforms. "Right now, OpenSea takes 2.5% of the profits from an NFT sale. If there was a Netflix killer that was amazing and they were taking 50%, that would already be a huge improvement for filmmakers."
Read full story on Decrypt