The @NFT Instagram account has been accused of posting sponsored content without proper disclosure. Now, the account has been removed.
On Wednesday, the popular @NFT Instagram account—which boasted 1.7 million followers and a blue verified check mark—became the subject of a viral Twitter thread accusing the account of repeatedly posting sponsored content and advertising new NFT collections without disclosing the posts as ads.
In a Twitter Spaces on Wednesday night, Aaron Avruskin, who co-founded Leverage Game Media—which is backed by Mark Cuban and owns the @NFT account along with several other social media accounts in the sports space—vowed to "immediately cease all ads" on the account and "try to be better" going forward.
Too late: On Thursday, Instagram banned the @NFT account.
"This account was disabled following repeated violations of our policies, and it won't be reinstated," a spokesperson for Instagram parent company Meta told Rolling Stone. (As per the FTC's social media influencer guidance, advertisements on social media must be disclosed in "simple and clear language," such as with #ad or #sponsored tags.)
As for Cuban's part, although the Leverage Game Media website listed him as a co-founder, the Dallas Mavericks owner and "Shark Tank" investor told Decrypt via email, "I'm an investor, I don't operate the company" and directed us to Leverage Game Media for further comment. Cuban added that he is not a co-founder.
Avruskin told Decrypt, "We apologize for any misunderstandings, and we will add additional layers of transparency in what we present to our community moving forward."
As of Friday, the Leverage Game Media website has been updated to remove Cuban from the list of founders. 
In the original Twitter thread, NFT collector TopShotFund accused the @NFT account of "promoting a shadowy cabal of scammy copy pasta NFT projects without proper disclosures, thus taking serious advantage of the less informed."
The account also posted a screenshot of a spreadsheet that tracked the return on investment for 36 projects @NFT had promoted. In most cases, the floor price of the NFT—the current cheapest price available—was far lower than the "mint price," the original price of the token, meaning that the investors have suffered heavy losses.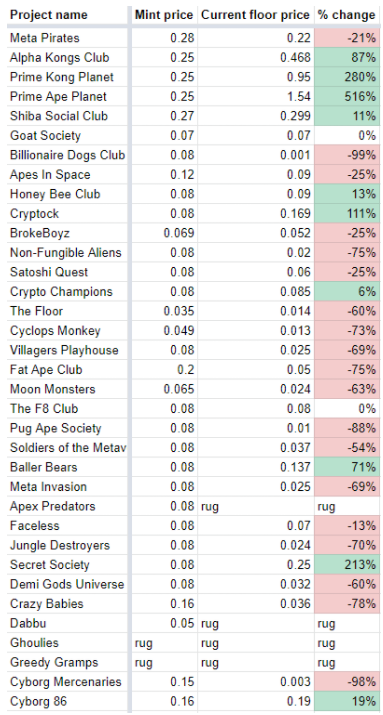 According to Eric Spivak, CEO of marketing agency Urconduit, the @NFT account charged between $25,000 to $100,000 per sponsored post. TopShotFund corroborated the $100,000 price tag in what appears to be a screenshot of a DM conversation with the @NFT account. Neither Avruskin nor Falovitch replied to our request to confirm these figures.
In a follow-up Twitter Space hosted by Spivak, he argued that the original Twitter Space discussion in which Avruskin promised to more clearly label sponcon had "a total lack of accountability, a lack of ownership and a lack of an unbiased stage."
Spivak told Decrypt he believes more than 50,000 people have "followed them off a cliff into financial losses."
In the past, the @NFT Instagram page frequently posted content that encouraged its followers to check out various NFT projects—many of which were profile picture (PFP) collections. NFTs are tokens that exist on blockchain networks such as Ethereum, Solana, or Tezos and are used to demonstrate ownership over an asset, like a piece of digital art.
PFP projects have been all the rage in these early days of NFTs, with collections like the Bored Ape Yacht Club (BAYC) racking up nearly $1 billion in secondary trading volume alone on NFT marketplace OpenSea. Many of the top NFT collections boast celebrity owners, like Paris Hilton and Eminem in the BAYC.
But buyer beware: while so-called "blue chip" collections like Bored Apes, CryptoPunks, and Doodles get all the mainstream press, the lion's share of NFT PFP collections have not retained their value. If you spring for a high-priced NFT, know what you're buying.
Read full story on Decrypt