Michael Novogratz, the billionaire cryptocurrency investor who heads Galaxy Digital Holdings Ltd., cautioned against assuming that Bitcoin's recent outperformance to stocks suggests the digital token is becoming an uncorrelated asset.
"If in two or three weeks, you see Bitcoin higher than $45,000 with stocks here or lower, then you'll say something really special is going on," Michael Novogratz said during KBW's fintech conference Thursday. "One week is not enough to call a breakdown in correlation."
Bitcoin fell Thursday for the first time in four trading sessions as speculation eased that more people would turn to cryptocurrencies to better control their wealth with nations imposing sanctions on Russia because of its attack on Ukraine. Bitcoin fell about 3.8% to $42,400 as of 12:45 p.m. in New York.
The largest digital asset by market value has demonstrated a close relationship with U.S. stock indices in recent months. A 50-day correlation between the S&P 500 and Bitcoin ticked up slightly on Thursday to 0.51, but is still down from its year-to-date peak of 0.64.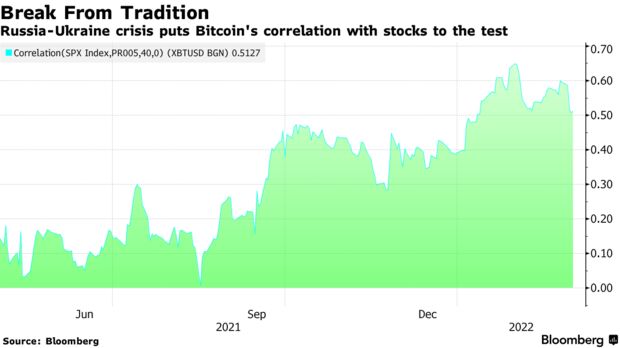 Other crypto advocates have been quick to seize on the narrative that Bitcoin is at a turning point.
"That correlation has an opportunity to decouple," says Sven Henrich, founder of markets analysis website NorthmanTrader. He sees Bitcoin continuing to operate as a risk asset in the short-term, but a safe haven in the long haul.
A rise in trading volumes using Russia's ruble and Ukraine's hryvnia had suggested to some observers that Russians and Ukrainians could be seeking to move capital as sanctions take an economic toll in the region. It also raised speculation that digital assets could be used to circumvent monetary sanctions.
Read full story on Bloomberg