The hackers behind last week's Nvidia data breach claim to have a customized driver that unlocks the limitations on the GPU manufacturer's graphics cards that prevent them from being used to mine cryptocurrencies.
According to PC Mag, the LAPSUS$ hacking group posted messages in its public chat room offering a customized driver for sale that, it claims, is capable of unlocking the hash rate limiter on Nvidia's RTX 3000 GPUs.
"If someone buy us the LHR, we will provide ways to fuck LHR without flashing anything," the hackers wrote, adding, "Without flashing = big money for any miner developer."
The hackers offered to provide documentation and buildable source code for the hash rate limiter.
The LAPSUS$ hackers have already dumped a 19GB archive that purports to contain source code for Nvidia's GPU drivers, which they claim "any developer with a good brain" could compile. The group also demanded that Nvidia issue a software update to consumers removing the hash rate limiter from its cards, threatening to leak a folder containing confidential details on the company's hardware.
During last week's hack, Nvidia encrypted a machine being used by LAPSUS$; the hackers claim that the attempt failed and that, "we have all the data." At the time of the hack, Nvidia issued a statement saying that, "Our business and commercial activities continue uninterrupted. We are still working to evaluate the nature and scope of the event and don't have any additional information to share at this time."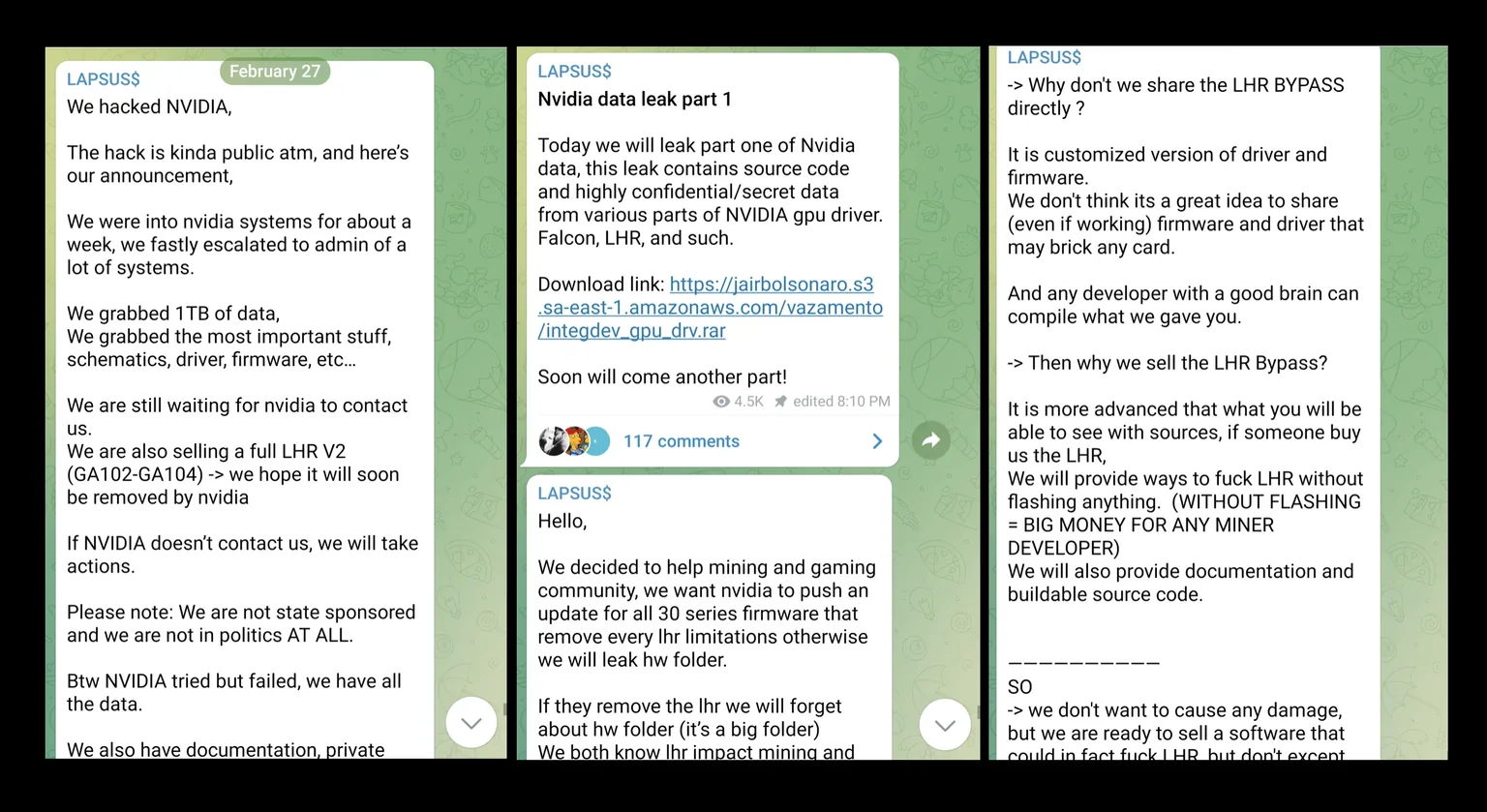 Nvidia GPUs and crypto mining
Nvidia introduced the hash rate limiter on its graphics cards in an effort to make them "less desirable" to crypto miners and restrict their use to PC gamers, following shortages caused by crypto miners buying up stock.
Although Bitcoin miners have moved on to more powerful ASIC miners, GPU mining is still economically viable for miners of Ethereum and other proof-of-work cryptocurrencies.
In response, Nvidia launched a dedicated Crypto Mining Processor (CMP) in February 2021. After sales initially outperformed expectations, they swiftly tailed off; by Q4 2021, they had dropped to just $24 million.
In its filing, Nvidia reiterated its commitment to limiting GPU crypto mining, stating that, "Nearly all desktop NVIDIA Ampere architecture GeForce GPU shipments are Lite Hash Rate to help direct GeForce GPUs to gamers."
Other GPU manufacturers, including AMD and Intel, have announced that they will not follow Nvidia's lead.
Read full story on Decrypt