After watching the once-hot crypto IPO market wilt alongside high-growth stocks, FTX's Sam Bankman-Fried is having reservations about taking his own company public anytime soon.
The chief executive officer says "never" is a possibility, considering the company — a crypto trading platform — is not lacking for liquidity after notching a $32 billion valuation in its latest funding round.
"We don't feel particularly compelled to race towards that faster than it would make sense," he said in an interview. "We feel like we don't have to do it, we're not convinced that there's huge reasons to do it right now, and so we want to be ready to do it but not have any mandate or necessity to."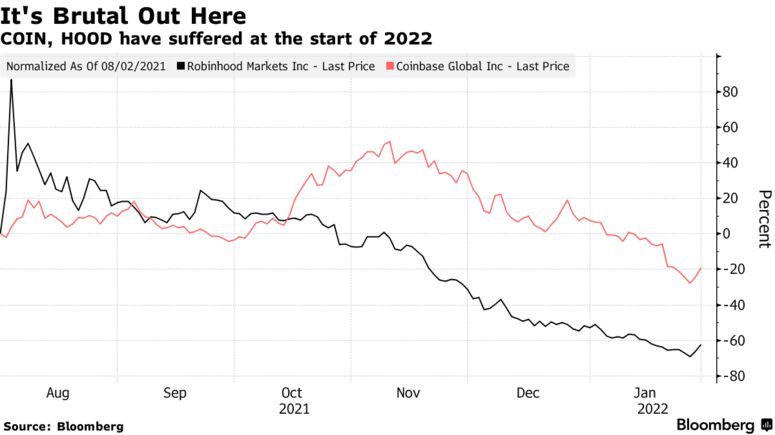 Bankman-Fried, who aims to use mergers and acquisitions this year to continue the company's tremendous growth, said he and his team have considered and done the work necessary for an initial public offering — should they decide it's the right move — but that the environment is looking tough. 
Investors are taking a pass on high-momentum, high-growth stocks that don't look as appealing in an environment where the Federal Reserve is getting set to raise interest rates. All manners of so-called growth firms have been hit hard, including a number of crypto-centric companies that have gone public since the pandemic broke out.
Take Robinhood Markets, which reported weaker revenue and a wider net loss in the fourth quarter than expected by Wall Street. The brokerage, popular with retail traders and many crypto fans, has shed more than 60% of its value since its IPO in July. Likewise, crypto-platform Coinbase Global Inc. has declined 24% since its listing in April.
Meanwhile, digital-asset marketplace Bakkt Holdings Inc. is down near 90% from a record reached in November.
Overall, initial public offerings have gotten off to a rough start to the year. A fund that tracks newly public companies, the Renaissance IPO ETF, has lost 20% since the end of December.
A lot of new companies had seen surging demand during pandemic lockdowns. But sentiment has turned against them, with some analysts saying they anticipate more a muted appetite compared with last year.
Publicly traded Bitcoin miners have been caught up in the drawdown too, with Marathon Digital Holdings Inc., Riot Blockchain Inc., Greenidge Generation Holdings Inc. and Stronghold Digital Mining Inc., among others, taking a beating.
"We're definitely watching it, we're paying attention and it certainly makes it seem less appealing than it otherwise would be," Bankman-Fried said.
Read full story on Bloomberg