Mark Zuckerberg isn't winning many converts on Wall Street to his vision of his social-media company as a play on immersive digital experiences.
Meta Platforms Inc. shares are roughly flat since October, when the company changed its name from Facebook Inc. and the chief executive officer laid out plans to transform it into a "metaverse-first" business. It's the cheapest of the megacap technology stocks, trading at a 20% discount to the Nasdaq 100. 
Investors will be keen to learn more when Meta reports fourth-quarter earnings after the market closes Wednesday about the social media giant's progress on "the next frontier," in part because Zuckerberg has said the initiative would be a $10 billion drag on operating profit in 2021. Any lead on that could determine the path for its beaten-down share price.
"Investors are going to require more visibility into what they are underwriting for management's desired next leg of growth," Brad Erickson, an analyst at RBC Capital Markets, wrote in a research note.
The shift to the metaverse — digital worlds where users can socialize, play games and conduct business — came right in the middle of public scrutiny about the effect on society of the company's Facebook and Instagram platforms. That scrutiny has been a major overhang on its stock price.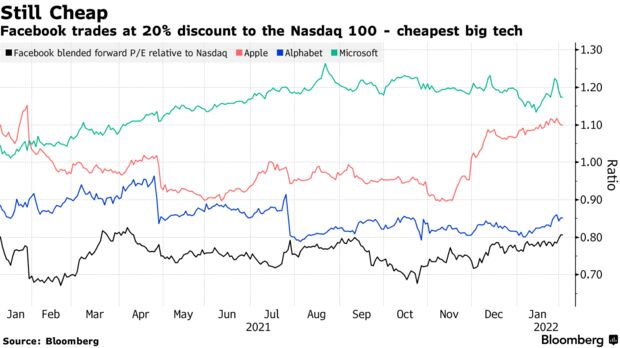 Analysts predict Meta will deliver a slight dip in fourth-quarter earnings and show 19% revenue growth, according to the average of estimates compiled by Bloomberg. The company is expected to break out results for Reality Labs, under which the metaverse bets sit.
Wall Street "will want to know how big the profit headwind could get in future years," analyst Justin Post of Bank of America Corp. wrote in a note previewing results last week.
Meta shares are up about 1.5% at 2:50 p.m. in New York Wednesday amid gains in tech stocks after blowout results from Alphabet Inc. Morgan Stanley said Google's better-than-estimated ad revenue has positive implications for the sector, which has been facing reopening blues.
Matt Peron, director of research at Janus Henderson, says Meta's relatively cheap valuation is "undemanding" and one of the reasons he likes the stock going into earnings. The company is valued at less than 21 times estimated earnings for the next year, versus just under 26 for the Nasdaq 100.
"Everything got sold down last month, including the names with strong fundamentals, but I suspect the earnings could come out and remind people just how strong the fundamentals are," he said in an interview.
Tech Chart of the Day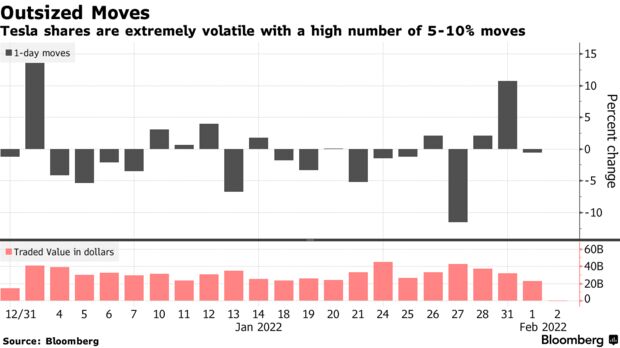 Tesla Inc.'s massive stock market value, its addition to the S&P 500 and its cult status with investors haven't been enough to damp the extreme volatility in the shares. The stock has already had three 10% moves this year.
Read full story on Bloomberg